Top Network Monitoring Tools & Software in USA
Introduction
IT sector is continuously bringing upgradations in the network systems, infrastructure, and related aspects. Thus, the performance of a network needs to be monitored regularly to meet the specific requirements of clients. To optimize a network, there are many options in the market available to select network monitoring tools.
Let us understand why these tools are necessary. Tools in a network monitoring system track the uptime, traffic, and bandwidth utilization for a particular network. Proper monitoring makes the system reliable to use.
However, you should make a smart investment in tools as these will help in the detection of device failures, limited data flow, and traffic bottlenecks of a network. We are here to provide the Top-Most Network Monitoring Tools that you can utilize for your organizational use.
Best Network Monitoring Tools and Software of 2021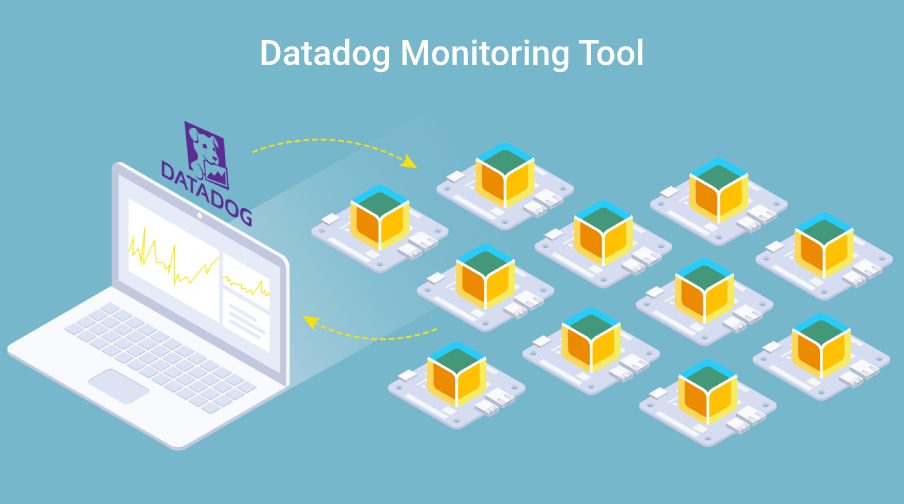 Datadog Monitoring Tool
Fixes DNS issues and is responsible to troubleshoot systems apps infrastructure. It works perfectly on cloud or hybrid network systems with the process of data flow monitoring. It is capable of creating a network topology map, thus, provides end to end visibility of all connected devices. This tool is quite useful for the network administrator as it navigates to the changes that are frequently made to the system. Especially when the system works on its setup routines. The benefit of this tool is that it can monitor a network remotely.
Manage Engine OP Manager
This SNMP-based network monitor has superior network topology layout options, all based on an auto-discovery process. It is the Best Network Monitoring Tool for Windows that can be installed on Windows Server and Linux. It is application performance management software that includes an APM plug-in to work efficiently. It needs to be installed on-premises to analyze network traffic and to manage faults.
Logic Monitor
SaaS-based monitoring tool is capable of automatically discovering IT infrastructure devices and monitors them effectively. It supervises cloud resources for on-premises networks. Using this tool, you can instantly troubleshoot the frequently occurring network issues. The interconnectivity of network devices can be understood properly so that you can analyze and repair the issues faster. It supports cloud-based networks helping you to map the network topology easily. Automation is trending these days even for network setup and configuration that is provided by logic monitor tool. It also helps network administrator to identify new network devices.
Icinga
This Open-Source Network Monitoring System is responsible for checking services and hosts of a network. You can install it by using MySQL. There are two methods to monitor the data: first is to monitor publicly available services to send and receive data for a local network. Mail and HTTP are some of the examples. The second method is to monitor network using an agent. You can use NRPE agent that you will need to pre install to start monitoring the network. Icinga provides 24X7 Network Monitoring wherein you will receive notification via mail for any warning or network issue.
Nagios
This tool is used to determine the active hosts and services for a network. Generally, web interface is used to gather this information. This tool performs action just like a scheduler as it gives fewer reports after certain duration. Shell or Perl scripts are used as plugin to monitor the network's performance.
OP5 Monitor
It can be operated either from cloud or hybrid platform. This tool helps in monitoring storage, servers, and applications on a network. It determines the overall health of a network and also generates the current status of the network devices. Most of the Free Network Monitoring Tools also help to troubleshoot a network but it is recommended for you to purchase a tool with a license.
Zabbix
The main role of network monitoring systems is to make visible the available network devices. Thus, with Zabbix tool it is easier to find handy servers and applications on a network. If you are using Linux, Unix or macOS network system then this will be beneficial for network monitoring. You need to install agents so that it can give a clear idea about up and downtime of network, IP address etc.
Progress What's Up Gold
Top Network Monitoring Tools such as progress whatsup gold helps in log and configuration management for a network. It uses SNMP agent to broadcast status of network devices such as routers, switches. You can install this tool on Windows Server for a year to achieve its maximum benefits. Since this tool provides visibility to all network devices, it is easier to detect and resolve network issues faster.
A company needs a network that can be reliable, scalable, and is satisfactory in performance. A network monitoring system can continuously work on identifying deficiencies in the network. It can help businesses save costs by improving the overall network performance. Therefore, choose the appropriate tool according to your company's financial budget and its size. However, the network monitoring tools that are listed above will help your company to achieve productivity.