5 Popular Paid Advertising Strategies for Online Business
Paid marketing is also known as digital advertising, refers to any strategy in which you can brand target potential customer's audience based on their interests, categories, intent, or previous interactions with the brand.
Online Paid Marketing Strategies for Business
There are many steps and types of the digital platform to promote your business. If we talk about the online paid marketing business or Marketing Strategies then through this paid marketing you can create an effective paid online ad campaign.
Therefore we have the expertise to implement the best digital online paid marketing strategies that attract and convert high-quality leads, traffic, conversion, and sales. For more information, you can read our online paid marketing blog.
Types of Online Paid Advertising Strategy
1. Pay-Per-Click (PPC):- PPC is one of the most powerful marketing platforms for paid marketing strategy. In this paid marketing you will pay for clicks and you will be finding the better result through this advertising strategy. Suppose if you will follow this strategy you can touch about 75% of "clicks," through paid as compared to just 25% being generated organically. (Pay Per Click)
How to Create PPC Account
First of all you should navigate to https://adwords.google.com, and click on the big blue sign up button. After that Google Ad-Words convenient walks you through the next steps. Fill in your email id with your full address and website. If your email address is a Gmail address, then you'll be prompted to provide your password to sign in for your new account.
Main Factors of PPC Online Marketing
Keyword Relevance & Research: - In this section, we can create relevant keywords according to the query and categories of paid marketing with PPC keyword lists, keyword groups, and proper ad text.
Landing Page Quality: - You can create an optimized landing page quality with proper content, keywords, and themes which will be very helpful in any of the websites
Quality Score: - Quality Score is Google's rating of the quality and relevance of your keywords, landing pages, and PPC campaigns. Advertisers with better Quality Scores get more ad clicks at lower costs.
2. Social Media Ads: - Social media is one second most powerful marketing platform for Facebook, Instagram, Twitter, LinkedIn, Pinterest, YouTube, and Snapchat, and other social media accounts. In this paid strategy you can engage your traffic, sales through different types of an audience by posting ads. Which is in the form of images, text, and call to action on social media platform?
How to Create Social Media Account
Display name
Username and URL
Profile picture
Link
Biography
Your interests & categories
Your background or cover image
Your privacy settings
Your activity timeline
Your Promotion

Conclusion
If you're getting started with a social media marketing platform, then the first step is to set up your accounts and profiles correctly.
You have already your profile on a social platform then complete your profile picture with the perfect user name, URL, and bio.
After verified by any of the social account holders then you can start your promotion with the selected audience and customer engagement.
3. Influencer marketing: - Influencer marketing is also one of the best online paid marketing strategies for your business. This marketing platform employs leading, niche content creators to improve brand awareness, increase traffic, sales, conversion with perfect ROI.
Through this online paid marketing strategy you can drive your brand's message to your target audience or categories. These content creators have already market to your ideal audience across different channels.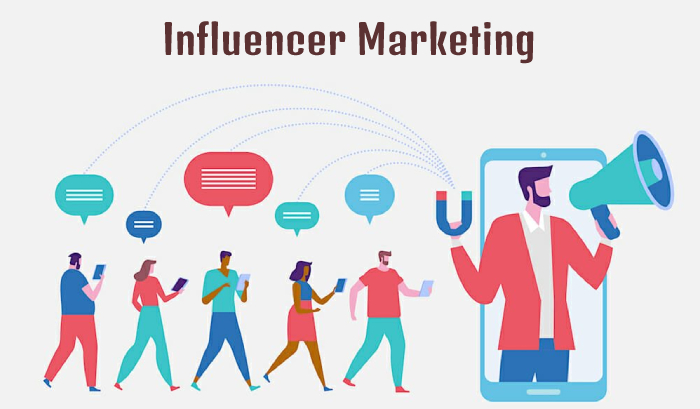 4. Banner Ads: - Banner advertising refers means rectangular, square, and other types of formats in a graphic display that stretches across the top, bottom, or sides of a website or online media property. Also known as Google Display Network
The horizontal type of banner in Google Display Network advertisement is called a leader board, while the vertical banners are called a skyscraper and the positioned of these types of banners are on a web page's sidebars. Banner ads are image-based rather than text-based and this is the popular form of online paid advertising.
The purpose of banner advertising is to promote a brand and get from the host website to the advertiser website.
Supported ad Formats of Banner Ads
468 x 60 Banners
728 x 90 Leader board
930 x 180 Top banner
970 x 90 large leader board
4. Ad Retargeting: - Retargeting marketing means targeting the audience who already visit your website. After that, we run the campaign for targeting those audiences and visitors who leave your website without buying or sale.
How Retargeting Fits into Your Marketing Strategy
Discovery: - Discovery means as a marketer, you most likely use various channels to drive traffic, awareness, sales and help prospects discover your brand or service. The discovery phase of marketing includes any of the services such as PPC, SEO, ad buys, emails, content, events or others marketing platform.
Audience Building: - In retargeting Ads, you can make a specific and selected audience for your returning users. Your top of funnel marketing activities can become a part of your online audience.
Conversions: - A conversion is the desired action on your website by the users. Such as from a download and sign up in any of the webinars or actually making a purchase of your products or services.
For more information and help with optimizing your online paid advertising budget.