How to Select the Best Software Development Company for your Next Project?
Introduction
We have observed a change in IT trends. The shift from traditional marketing tactics to ever-growing digital marketing. From big desktop systems for programming to faster RAM/ROM-based laptops. This has all modified the way IT sectors are working now. If we talk about the operation, this has become dependent on outsourcing and external projects.
COVID-19 has Changed Way Business - McKinsey
The clear indication heads towards the covid-19 that has changed the business processes. According to McKinsey, COVID-19 has made people rely on online services. In their survey, it is recorded that businesses have observed a major crisis in dealing with clients and generating ROI. The pandemic has affected software product development and created a hilarious situation for everyone.
The downfall in the global economy after the pandemic was around 3% has shivered the roots of businesses as mentioned by Statista. Yes, the pandemic was hilarious not only for people but for every sector.
Let us take you to the scenario when everything was under control & stable. Before COVID-19, the situation was like the clients used to give projects and pay the agencies or freelancers accordingly. That was a convenient option for both parties. Moreover, it was a benefit to the businesses that they could earn more.
The level of overseas GDP has now decreased and there is a new way that many clients have adopted to complete the ongoing and new projects. The ways to evaluate a software development company from the client's point of view changed a lot. They are looking for a sophisticated business solution rather than experiencing a loss!
Now, it the time to acknowledge you with the post covid scenario. The shock after the pandemic was not only in the lives of people but affected the ways in which businesses used to work. The international clients have decided to give projects on a monthly basis. Employees need to work on the required projects within 30 days then the payment is initiated.
This might be in regards to safeguarding the quote offered by the IT companies or freelancers.Now, employers want developers to work on a salary basis. Most freelancers or agencies are facing challenges to find the right client. The same is happening with the clients. They are not getting reliable people for work.
Freelancers or Software Development Agencies?
It is said that getting late in choosing right has always been better than choosing wrong. This is not only the fact but the reality from which most people are running. A better face-off is when you know that whatever challenge would be, you are ready to face it.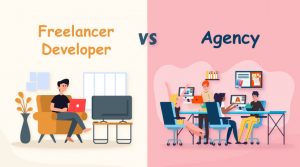 Whatever the condition COVID has created for us, we should not stop believing that people with great skills do exist. Being a client, you can thoughtfully understand that a project with faster completion but poor-quality work is not appreciated. Rather a tidy, supreme quality, to do the point work is recognized everywhere.
Freelancers: Hiring freelancers on a monthly basis can be a reliable option when you want smaller projects to be done. Individuals involved in freelancing consider it as a passive income and accordingly complete the tasks. However, this has some cons as well. The main concern for you can be related to communication.
Considering your needs as a priority, we would suggest you conduct online meetings with the consulting person.This will show the sincerity of the individual whether he/she is dedicated or responsible towards their task. No or improper communication means you are utilizing your time in the wrong thing.
Most freelancers are not available full-time which creates an issue in any updation required. Many times, this creates a barrier between you and them. Also, they have a limited skill set which is again trouble for you. As a client, you cannot assign a random task to a freelancer. You need to consult a different freelancer for that. Think, how difficult it can get to share your requirements and get it done according to you!
This can be a money-saving option that may be good for you in the short term. But in long term, you need a group of people who could make the project according to your requirements.Choose wisely!
An Agency: A strong business means a group of highly skilled and disciplined employees. These can be freelancers or the ones you hire through the agencies.Businesses in the IT sector is done in buckets which are described below -
Onshore agencies mean they are in the same country as you are residing
Offshore agencies are outside of your country
Nearshore means residing in the neighboring countries
Hybrid who deals with onshore and offshore clients
Hiring Software Development Company:
In the post-COVID-19 scenario, it will be feasible for you to hire any software development company. You can pick out anyone basis on the above buckets to get your project delivered. These will help you in dealing the complex projects. You can find the agencies from the internet or digital platforms such as LinkedIn, Fiverr, Upwork, etc.
A single, responsible person known as a project head with assist you with your every small and big need. The deadlines, quality, features of the software or a service everything will be according to you.
You might be thinking why it is getting difficult? How to get the right firm? What tactics to use for hiring an efficient developer? How to manage the cost? From where to get a valuable employee?
Your concerns are truly acceptable. Anyways it is not just software but a complete project for managing the image of your business. Hiring developers from top agencies will impart qualitative results for your business.The experienced designers and developers will carefully handle your small or large projects easily.
You are the client and you will definitely have the flexibility to communicate with the agency at any time you find suitable. Secondly, the quote for each software development process will be reasonable as you have to pay for the project scope. It will be scalable, durable, and tested by experts.
However, the decision of choosing one of the two will always be yours. It should be according to the time, budget, and type of projects you require to accomplish.